0480 2850396
0480 2851170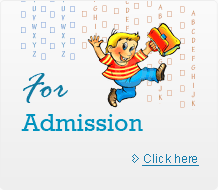 FROM THE PRINCIPAL'S DESK
Montessori Report 2010- 2011
The Montessori method of teaching aims at the fullest possible development of the whole child, ultimately preparing him for lifes many rich experiences complemented by her training in medicine, psychology, anthropology, Dr.Marria Montessori( 1870- 1952) developed her philosophy of education based upon actual observations of children.
Children pass through sensitive periods os development early in life Dr. Montessori described the child's mind between the time of birth and 6 years of age as the absorbent mind . It is during this stage that a child has a tremendous ability to learn and assimilate from the world arround him without conscious effort. A Montessori teacher recognizes and takes advatage through the introduction of materials and activities which are specially designed to stimulate the intellect the child works at her own optimum level and is given the freedom to make her own choices. Montessori teachers are trained facilitators in the class room always ready to assist and direct. Everything in the Montessori class room has a specific use and purpose. There is nothing in the environment that the child can not see or touch. All of the furniture and equipment is scaled down to the child's size and is within easy reach. In the enriched environment freedom, responsibility and social and intellectual development spontaneously flourish.
Now we have 3 fully equipped Montessori activity rooms for our 150 Montessori students. Our Montessori wing is enriched with 6 eminent staff to take care of the children in their holistick development. Daily observation of the children class perfomance and progress in various activities help them to the cope up with various stages of development. We give activity sheets evry month and conduct open houses to assess the progress of the children. Parents are invited to watch the daily activities. All the important festivals like Onam, Independence Day, X'mas, Children's Day, Sports Day, Motessori Day etc are celebrated in grandmanner. Every month we select a day to celebrate differently like Flower Day, Fruits Day, Colour Day, etc. in order to make the children aware of the their importance. We organize field trips to Montessorians toget them experience the real life situations. This year we took them to Munakkal beachand one cattle farm in Vemballur. They could see different types of cows, varieties of parrots and horses. They enjoyed watching different flowers which are used for decorations.
Its my pleasure to name our dedicated teachers of Montessori, Ms.Reshmi., H.M, Ms.Ramla, Ms.Abitha. Ms. Sheeba, Ms.Sunanda Ms. Nazeera. Their readiness to shoulder any responsibilties is remarkable I take this opportunity to thank each one of them for their Co- operation and hard work.. we are indebted to our PresidentJb. Mohmmed Ali, Our Secretary Pro.Abdul Wahab, Treasurer Sri V.m.Shine and all other members of management for their support and guidance. My thanks also goes to Sri. Sakir Hussain, PTA, President all other executive members and monitoring committee members and parents for their valuable co-operation and suggestions. I thank our Administrative, Officer, Prof.Abdul Razak, Vice Principal Ms. Nacy Devassy and all other teaching and non teaching staff for their help and support.
Annual Report- 2010 - 2011
Academic Excellence
The Academic year 2010- 2011 proved to be a year of accomplishment for the MES as year dawned with the remarkable achievement in the board examination in the all India Secondary School Examinations the pass percent was 100, while 48 students appeared for the examination 21 passed with distinction, 15 with first class and 12 with second class. The school Toppers were

1. Aswathy.P.V- 91.2%
2. Nasrin.V.M- 89%
3. Asna.N.A-89%
4. Naveen K.U-89%


1. Holistic Education
Innovations in Education intiated by CBSE recently have stanted catching up fast with M.E.Swith broarder aim of examination reforms in mind CCE envisage that every learner is to be evaluated over the entire period of learning shedule rather than one shot three hour external examination at end of a course of learning. Besides, the process of evaluation also include and reflect all components of personality of an individual. Both the head and heart have an equal role to play in the holistic development of an indiviual. As a result, 'Learning by doing 'is the method of education at M.E.S.
2.Extra- Curricular Activities
Extra - Curricular Activities and Academic pursuits are in tandem at M.E.S.apart from regular coaching in Craft, Karate, Yoga, Music, Dance, Painting and by abacus specialists, the school is the ambience for a flurry of activities to nurture the special talents and skills of our students.
3.Club Activities
5 different clubs under the guidance of teachers-in- Charge had innovative and vibrant activities. Our Literary Club took the children to Ernakulam to show the 3 hour long English drama 'Oliver Twist' enacted by school children various Schools in Ernakulam. On the world Library Day, 8th September the children from various school children read silently for two hours. There was Current book Exhibition in December for the book lovers. On Kerala Piravi Day Literary Club organized an exhibition displaying the an tiques of Kerala. Science club conducted two exhibitions. One was in September, the other was in connection with the year of Biodiversity, Both displyed beautiful models and varieties. Reading Weak was observed in June from 14 th to 21st with various activities in every class. In addition to forming class libraries, discussions, book reviews, quizes etc were held. Art club conduted class wise Art & Craft exhibitions on Jan.10th and classes IV A, V A, VII B and IX A won prizes under the categories II, III, IV and V respectively.
Social Commitment
4.AMMA- THANALIL- conducted by Santhi Club.
34 Students from class VIII to XI spent an entire week from September 20th To 27th with ten destitute Mothers living within the 15 k.m radius of the school. We acknowledge the help rendered by Mr.T.N. Prathapan, M.L.A., to identyfy the mothers. The time spent with them helped to inculcate in the students a sense of compassion for fellow human beings. On the last day, the mothers were brought to the school and presented with gifts, medicines and food brought by the students with their pocket money. For the women the love and care they received was the most priceless gift which they would cherish for the rest of their lives. Our' Ammathanalil' was featured in almost all the dailies and aired in Doordarsan TVM, and attracted the parents and public in general.
5.Quality Raising
Quality Consciousness of MES Management is so focused that they were keen on further raising the 'Quality' image of the school. Indroduction of Smart Classrooms and Language Lab have made learning at MES more facinating. The school store started functioning in November.
6.Competitive Exams and other Interschool activities
Various Scholarship Exams like PCM, Gurushishya, E.L.P.S.S, m.t.s.e,s.s.A.T., MaRRs Spelling Bee etc conducted this year too. 8 of our students participated in the Interactive Session conduted in connection with Gautham Puraskar, in C.K.M.N.S.S. School, Chalakudy. In MaRRs Spelling Bee International Competition, Mohd Yassin entered into district level and Amras was qualified for the Sate level last year. Both are from classes III. Congratulations to Amras and Mohd Yasin. Our children proved their excellence the painting competition conducted by Hindhu Young World. In the Quiz competition
conducted by Kodungallr Lons Club, our children got III. Congratulations to Kiranjith and Rakesh of class X. Our children participated in the Seminar on Nanotecnology, conducted by MES Asmabi College. Our children participated in Suryanamaskar Competition conducted by Vivekananda on 9th of January and and won appriciation. Our karate team participated in Karate Competition for the first time on 5th February.
Ten got prizes. They are Anamika- XA Kata IIIRd and Kumite 1st, Arya.K.Santhosh- XA Kata IInd & Kumite IInd, Faiza -IX, B Kumite IIIrd, Keerthana V.J VIII A Kumite IIIrd, Sanam Majeed XA Kumite Ist , Mubeen. Rafeeque -VI A kumite Ist, Shabas Hameed- VIII B kumite IInd Kiran.R.S-VIII A Kumite IInd. Malarvadi Arts Club conducted painting competition, 2 of our children got prizes. They are Afnan of I B and Fayas Rashid of II B. In Gurusishya Scholarship Examination we have bagged many scholarships. The winners are Nihal Navas of III, Thoukeer of II, ShahelAli of I, Sai Krishnaof II, Shamla of V, Swathy of VI, Abdulla Hafeez Mohammed of VII, Aswin of VIII, Chaithnya. P.Ullas of X. Some of our children took part in Gamaths Exam on 16th January. Our children were taken to the Eye Camp by the Lions Club of Kodungallur and arrangements were made for procuring spectacles for the needy. Karate exam was conducted on 15th of January and our children secured yellow belts. In PCM,Scholarship Examination 5 of our children got grade A with scholarship. They are Mohmmed Yasin,Nihal Navas,Saad Mohammed Rafi from class3. Neema Biju from class IV., Swathy.M from class VI. In the Sahodaya Scholastic achievenent Test, Aparna of class ll and Anjana of class IV, got B grade with medel.
7. Up Gradation to Senior Secondary
Much awaited dream has been fulfilled on June 23rd.With the blessing of Almighty, Managements, teachers and parents, our first batch of class XI with 26 children on began this day.
8. Mangement of profociency Award
The award instituted by the school Mangement to encourage the meritorious students were president 4-8-2010. Pro. K.A Abdul Wahab, Secretary and correspondent, presided over the meeting Mr. Ambadi Venu, President, District Panchayat and Mr. Praveen Kumar, S.I.

of Police- Mathilakam gave away prizes to the toppers in each class.
9. M.E.S. Education Board
As part of their annual inspection, our respected chairman of the Education Board, Mr. Moideenkutty and his team visited our school on 11th Nov. They proved their share in the growth of our school. In the All Kerala MES Teachers get together at Kuttipuram; the Assamese dance performance of our talent staff was really clap worthy.
10. Hindu NIE
To inculate soft skills in students, The Hindu came forward with News In Education Programme. The expert trained from Hindu' handle classes monthly in our school. On the concluding day, they talked to the children in the assembly and gave tips to improve the English Communication skill.
11. School Athletics Meet 2010
Physical training is an important segment of school education which is facilitated at M.E.S. The School Athletics Meet held in two days give changes to all students to display their athletic skills as well as sports talents competitively. Our school was host this year to M.E.S Volleyball tounament,and we won 2nd in the under 19 and 3rd position in under 16 categories.
12. Inter School Sports Competions
For of our children represented the school in CBSE Athletic Meet in Thiruvananthapuram in September. They are Rakesh.M.R., Sarath, Aswin and Ahmed Faiz. In the M.E.S Athletic Meet held Tirur, 10 children perfumed excellently. They are Firossha. K.S.Hanan Anwar, Afsath.P.A., Sarath.T.S., All of them got 3rd position in Long Jump, Discuss Throw 100m & 400m race. Asheed, Rahil, Rakesh.M.R, Aswin,.Ahmed Faiz and Haseef.P.A Won Ist and 2 nd positions in various events. Haseef.P.A & Ahmed Faiz are the individual champions. Congratulation to all. In Thrissur Dt, Sahodaya Athletic Meet also, our childern proved their mettle, Rakesh.M.R.and Ahmed Faiz won 2nd and 3rd positions Hats off to Rakesh and faiz, under the expert training by our P.E.T.Mr.Sudheer.
13.Arts Fest-" Sargam 2010"
A two days Arts Fest was conducted on August 2nd and 3rd. It is an occasion for all students from class to XI to join in any of the Art or Cultural competitions and dispaly their talents and win the prizes.
14th School Celebrations
Festivals and celebrations are a part of the educational process at our school. Onam celebration was conducted as usual with pookkalam competition,Mavely procession, Pulikkali, Vadam vali and Thiruvathirakkali- Teachers' Day was marked by a special function. A veteran school teacher, Vasudevan Master was honoured. He shared his past experience with the teachers and students and talked about the role of teaching community in moulding the generation Senior students took up the duties of both teaching and non- teaching staff on that day. Independence Day was celebrated with much enthusiasm. Prof : K.A Abdul Wahab, Secretary of the school hoisted the National Flag and delivered the keynote address. there was drawing competition, and speeches by the students on 'Ente Bapuji' In connection with world Cup Football and Common Wealth Games, quiz and making competitions were held. National Educational Day was celebrated on 11th Nov with speeches in assembly. Human Rights Day, organized by the Heritage Club on Dec 10th , children made propaganda Consumers Rights Day was celebrated by diplaying charts. There was eassay Writting copetion on Road safty and vehicular Pollution on Dec 22nd , 2 of our children participated in the speech competition conduted by Vivekenda Kendra on world youths Day. Our children participated in the essay Writing competition held by Ramachandra Mission.
15.School Couseling
Counseling is being given special focus. Ms.Nishi Salam, a specialist attends the students identified by the teachers.
16.Workshop and Seminars
Workshops and Orientation Programmes are a part of the faculity Enrichment Paln at M.E.S A number of subject teachers attended various workshops organized by TSC as well as different publishers. Expert trainers from CIGI, Calicut and Pencil, Cochin train the students, teachers and parents and equip them to face the challenges. We organized a workshop on creativity on 27th November, by a renowened trainer from Coimbatore, in which, teachers from other insitutions attended. In summer vacation personality development as well as sports camp were provided to the children. All the staff of our school underwent one week CCE training in our school, in May. On 3rd July there was communicative English workshop for all the teachers, Principal attended a 2 day workshop of English Language Teachers Association of India in Chennai on August 6th & 7th On September 3rd teachers attended another communicative English class. Class on learning was given to all classes from 6th onwards by Dr. Sudarsan from Pencil and Nishi Salam. Principal attended a 2 day conference in Cochin on 2nd and 3rd October arranged by All Kerala Sahodaya Conference. Hindi teachers attended one orientation class in Thrissur on 5th October arranged by Madhupan. English teachers attended 2 day workshop in Thrissur on 19th November conducted by pearson Longman. Science teachers attended workshop on 3rd December arranged by Ratna Sagar, our maths teachers attended Gamaths workshop on 8th December and 16th January in Cochin. There was skill improvement class for class XI on 19th November. Pre- Exam coselling was given to class X and XI on 9th February by Mr. Sageer. Principal attended a 5 day training on New trends in Education in Pune, conducted by Shikshangan in December.
17.Tours
Class X students conducted a 3day tour to Mysore. Staff also conduct picnic every year.
18.Environmental Activities
Realizing the importance of protecting the environment in the industrialized World, the World Environment day was celebrated with due importance. Besides conducting Seminars and discussions practical programmes were started by planting saplings in the campus collaborating with 'Entemaram' programme of Malayal Manorama and 'Seed' of Mathrubhumi. We have also tied up with 'Oushadhi' to start a medicinal garden. Further more 150, saplings supplied by Krishi Bhavan, S.N.Puram were also planted by the teachers and students. We preserve butterflies in our Butterflypark, the only one in C.B.S.E. Schools, Kerala.
19. PTA
I am proud to announce that we constanly receive unbridled Co-operation from all the parents Regular intractions with parents at Open Houses, PTA executive and Generl body meeting apart from the class wise Monitoring Committee Meeting and individual meetings pf parents with teachers and Principal make the schooling of children at MES partnership between parents and the school.' Campus Pulse' a New Letter was released by KLDC Chairman A.G.Sivanandan on 3rd November with the Sponorship of PTA and it was really a wonderful venture. PTA, sponsored a stereo and started Principal's workshop on 'Effective Parenting' for all parents in every month.
They assure their full co-operation in all our activities. In our Montessori & Annual Day celebrations PTA has come forward with a share to lesson our financial responibilities. Our Management, Staff and Parents on 29th January Participated in the State Protest Convention against the propose rules of Kerala Government in Jawaharlal Nehru Stadium at Kalloor.
New Montessori Block
It is my duty and privilege on this occation to express my appreciation and sincere gratitude to the President of our school, Mr.E.M Mohammed Ali, Secretary and Correspondent, Prof.K.A.Abdul Wahab, Treasurer Sri.V.M.Shine and the members of Shool Management Committee.Their inspiring and whole - hearted dedication enhanes the growth of this institution in its pursuit of Excellence. I am also thankful to P.T.A President Sri. Zakir Hlussain & other P.T.A. executive members monitoring committee members and all othe parents for their encouragemenet and support. We are blessed with a band of selfless and dedicated teaching and no- teaching staff. I owe sincere thanks to my colleagues, A.O.Prof.V.K.Abdul Razak, Vice principal smt. Nancy Devassy, Head Mistress Ms. Noorjahan. K.A., Ms.Jeeja, Ms. Shahira, Ms. Beena and Ms. Salini all Deapartment Heads and other members of the teaching Staff, Mr.K.A.Mohammed Farook, the Office Superindent and other non - teaching staff; Ayoob. K.Rasheed, the Head Boy and Hiba Basheer, the Head Girl and other members of school Parliment For their co-operation, hard work and guidance.
It is our dream to make our children socially useful and productive citizens of this country. Let us pray to the Almighty to guide us in the right path to make our children good human who will be an asset to our nation
Thank you one and all
JAI HIND