0480 2850396
0480 2851170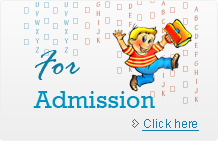 Admission
Admission, subject to the availability of seats, is open to boys and girls, irrespective of caste, community or social status. The registration for the admission to the new academic year commences during the month of March of each year. For admission to Montessori I , II and Ist grade, the child must be 3½ years, 4½ years and 5½-6 years old respectively by the Ist of June. Students who pass Montessori II of this school will be admitted in the 1st grade. on submission of the application in the prescribed form.
Documents to be submitted at the time of admission:
Two recent passport size photographs of the student.
One xerox copy of the Birth Certificate along with the original. (original certificate will be returned after verification).
Mark sheet of the last examination passed.
Transfer Certificate of the school last attended.
Conduct Certificate.