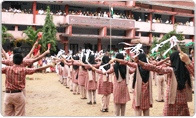 M.E.S. Public School is a premier C.B.S.E. School established at P. Vemballur near M.E.S. Asmabi College in 1993. Situated in a serene surrounding of the coastal area, the school takes pride in shaping the destiny of our children in a way most suitable to their growing age. This institution was started with a vision to improve the educational standard of students, to find out and nurture their inherent talents and thus to enable the all-round development of their personality
The school is one among the several Public Schools run by All India Muslim Educational Society (AIMES) - an educational agency aimed at the upliftment of educational backwardness of minority communities.
The mission of this unique school, founded by the parents, is to impart high quality education with modern infrastructure. It is our uttermost desire to give to the children the best ever education all parents envision.